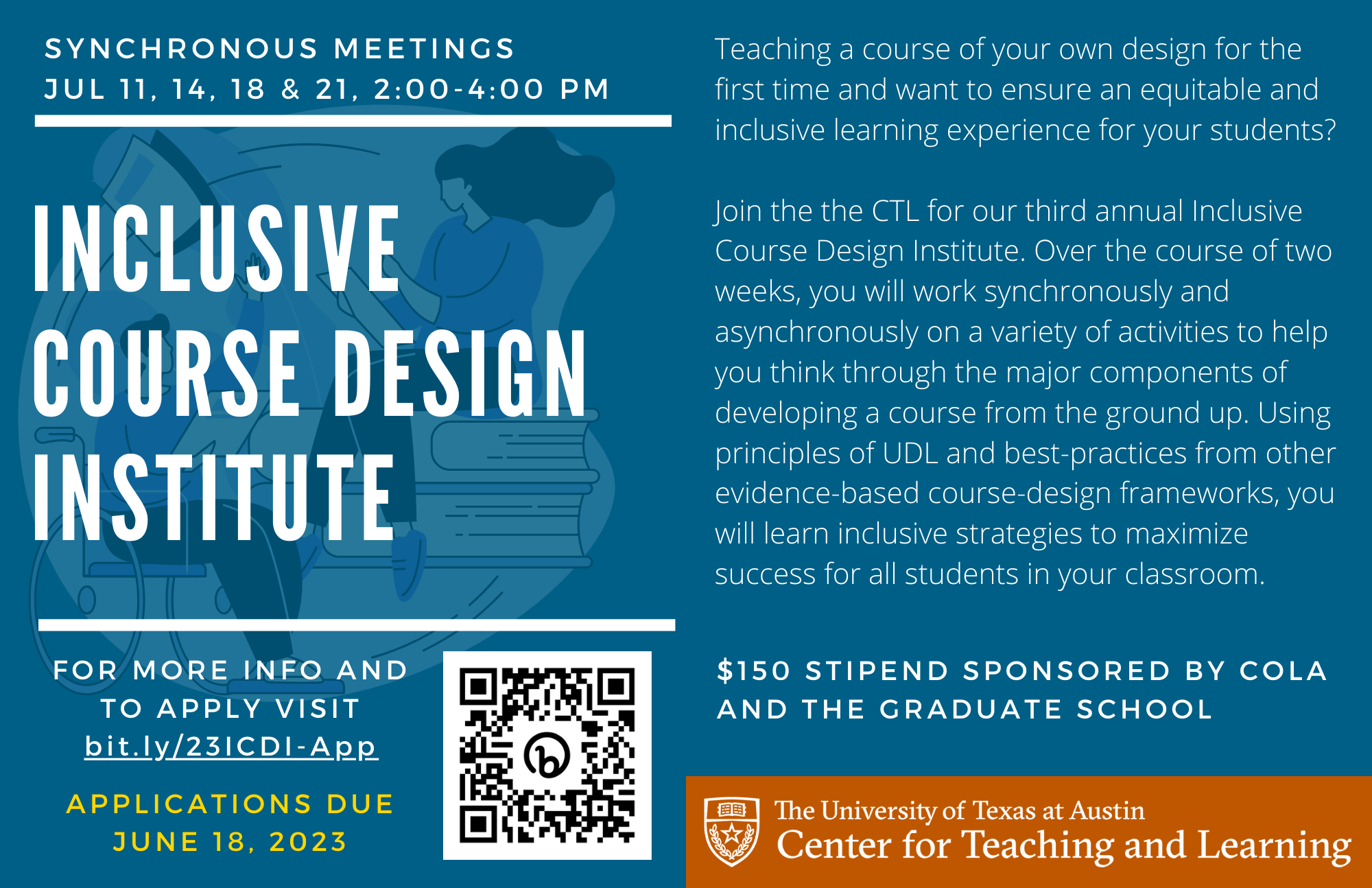 The Center for Teaching and Learning is pleased to invite graduate students to apply to join the 2023 cohort for the Inclusive Course Design Institute taking place July 11th-21st. Over the course of a two weeks, you will work synchronously (through four meetings online via Zoom) and asynchronously (by completing course material at your own pace in a Canvas) on a variety of activities to help you think through the major components of developing a course from the ground up. Using principles of Universal Design for Learning (UDL) and best practices from other evidence-based course-design frameworks, you will learn inclusive strategies to maximize success for all students in your classroom. This course will center accessible, anti-racist, and anti-oppressive approaches to course design to help you remove barriers to your students' learning. Applications are due Sunday, June 18, 2023. CLICK HERE to apply or visit https://bit.ly/23ICDI-App. 
Dates & Times    
Synchronous sessions will take place over Zoom from 2:00–4:00 pm CST on:
Tuesday, 7/11

Friday, 7/14 

Tuesday, 7/18

Friday, 7/21
Participants should also expect to spend between two and four hours to complete asynchronous work before each session. 
Qualifications    
As the enrollment is limited to 40 students for this cohort, we will prioritize graduate students who have been assigned as an instructor of record or AI for the fall or spring semesters in the upcoming year (2023-24). You will be asked to provide a course description and course number (if available) as part of your application. Other interested students will be placed on a waitlist. 
$150 stipend    
Students who complete all assignments and attend all four synchronous sessions will receive a $150 stipend, generously funded by the College of Liberal Arts Office of Research and Graduate Studies and the Graduate School.
Institute Objectives    
By the end of this two-week program, participants will be able to: 
Deconstruct assumptions about students in order to center empathy and accessibility in course design

Align planned course objectives, assessments, and activities to support students in meeting their learning goals

Integrate inclusive, accessible, anti-racist and anti-oppressive practices throughout each stage of course design

Apply relevant best practices from evidence-based course design frameworks, including backwards design, Bloom's and other taxonomies, and/or TILT (Transparency in Learning and Teaching) to create a student-centered syllabus for a uniquely designed course
Additionally, participants will gain access to:
Course design toolkit (including a list of resources on campus and at the CTL to support the course design and redesign processes)

CTL services such as consultations with staff about course design, assessment design, teaching statements, and DEI statements; teaching observations; and mid-semester feedback evaluations
CTL Facilitators    
Michelle Gaston, Ph.D., Assistant Director of Graduate Student Development    
Kaitlyn Farrell Rodriguez, Ph. D., Teaching Consultant    
Maria Roxana Loza, Ph. D. Candidate, Graduate Assistant
CLICK HERE to apply or visit https://bit.ly/23ICDI-App 
Event Details
Location
Zoom (Links to Follow)