Inclusive Teaching and Learning
Inclusive Teaching and Learning
Inclusive teaching and learning is a mindset, a way of thinking that asks you how best to create opportunities for all students to connect with you, the course material, and each other.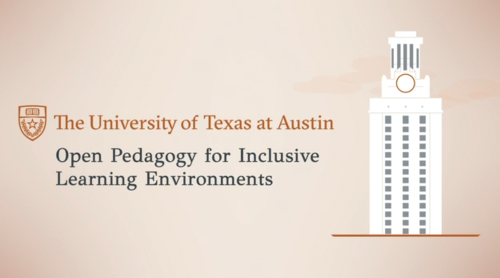 Visit the classroom of Dr. Jocelly Meiners to learn about the use of open pedagogy for inclusive learning environments. What are goals of this approach? How are learners impacted? Hear directly from students about their experience in the course.
How Can I Do This?
Research shows that educational contexts frequently reinforce inequities, which can hinder cognitive development and student well-being (Roksa, Kilgo, Trolian, Pascarella, Blaich, and Wise, 2017). There is no one way to implement inclusive teaching and learning. Consider some of these strategies to promote an equitable teaching and learning environment.
Intentionally design your course and curriculum with an inclusive mindset.

How can you increase the representation of and access and support for your students? Being proactive before the semester begins can reduce your time spent later making accommodations and resolving conflicts, and enhances your teaching effectiveness.

Think about your course and curriculum: which voices, identities, and perspectives are included? How are they represented in readings? Which ones are missing? Why?
Provide multiple means of representation of course content. What are the different ways for students to access the course content? Lecture? Readings? Videos? Discussions?
Create a variety of assignment types. Provide students with choices in how they complete an assignment or between two different assignments.
Clearly communicate expectations and offer support.

Research indicates that perceptions of what "high expectations" means often varies between faculty and student (Borghi, Mainardes, and Silva, 2016). Communicate early and often what high expectations means to you, and provide support to all students as they work towards those expectations.

Establish ground rules for class participation and discussion. Ask for student input, and feel free to revisit (and revise) the rules during the semester as needed.
Offer frequent formative assessment opportunities as "climate checks" to gauge student perceptions of the course and their progress.
Get to know your students.

Ask students questions about their experiences related to course content: What's their previous experience with this subject? What are their goals in this course? What are their fears about this course?
Reflect on your teaching practices.

Teaching, like learning, provides the promise of on-going development, if we let it. Take time to reflect on how your practices and perspectives have changed, and in which directions you want to see them move.

Consider the intersecting aspects of students' lives to foster a sense of belonging among students.
Mistakes are inevitable. How you respond to those mistakes can serve as an important model of cultural humility for your students, and emphasize the ongoing nature of the learning process.
Attend a campus workshop.

Several organizations across the UT campus offer workshops and seminars on a variety of Inclusivity topics. We have created a map of many of the campus resources and workshops available to you as you continue your journey to learn more about inclusive teaching and learning practices.
Why is This Important?
Considering students' intersecting identities helps you connect your content to your learners, and also fosters a sense of belonging among students, cultivates empathy, and promotes resilience.
Foster a sense of belonging among students.

Research indicates a sense of belonging is positively associated with academic success and motivation (Freeman, Anderman, and Jensen, 2007). Students who feel they belong:

are more likely to see the value of the required course work. (Verschelden, 2017, p. 58).
have higher self-efficacy related to their estimates of their chances to succeed in the course (Verschelden, 2017, p. 58).
Cultural competency is a must-have skill in today's workforce.

According to NACE's Job Outlook 2016 Survey, more than 80 percent of responding employers said they look for evidence that students have the skills to work well in teams — especially in diverse teams.

CEOs name cultural competence as one of the most critical leadership skills, according to a recent DDI survey.
Cultural competency requires both an awareness of one's own cultural worldview, and an awareness of and tolerance towards others' worldviews.
Embracing diversity and equity is integral to our mission as educators.

"As faculty, we have the opportunity as well as the social obligation to nurture talents and gifts that once might have been lost. We all have this opportunity - regardless of the teaching and learning setting in which we find ourselves. In response, it is our individual ethical and professional responsibility to create an inclusive learning environment - to the best of our ability" (Nolinske, 1999).

Improving the classroom climate and creating an inclusive curriculum are important and explicit parts of the 2017 UT Diversity and Inclusion Action Plan
It is the policy of The University of Texas at Austin to provide an educational and working environment that provides equal opportunity to all members of the University community (Handbook of Operating Procedures 3-3020).