Student lying on bed studying her laptop.
Hybrid Learning and Teaching
In hybrid classes, a significant amount of the class time has been moved online. Think about how you can take advantage of new kinds of online tools and activities that enable more in-depth explorations during in-class time.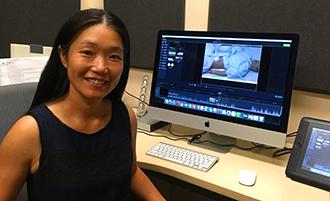 Who's doing this at UT?
Li-Chen Lin, Nursing, uses Screencast-o-matic and PlayPosit to enhance the ways that students interact with online course materials in her hybrid nursing course, "Integration of Nursing Knowledge." Using Screencast-o-matic, Li-Chen created voice-over videos, walking students through cases, and inserted questions at key moments in the video with PlayPosit.
How Can I Do This?
Hybrid classes have the potential to bring together either the best or the worst of both the online and face-to-face worlds. Your thoughtful coordination will make the difference.
Design your course to focus on the integration between online and in-class activities.

When creating a hybrid course, it is tempting to introduce online work to the traditional syllabus as an add-on. This approach, however, can result in a course that requires too much of students. In order to take full advantage of the rich possibilities of the hybrid format, online and face-to-face portions of the course must be purposefully integrated.
Clarify your expectations for both the online and in-class environments.

In the syllabus, give students an introduction to the course format so that they understand the way the course will function. From the very beginning, talk to students about the underlying rationale for the hybrid format of your course and the, possibly different, pattern of course assignments.
Help guide students as they navigate between online and in-class activities.

Given the flexibility of the format, every hybrid course will have its own unique structure. In order to successfully navigate the course and complete assignments, students will need to know how to communicate with you and each other in the two different formats of the course.
Create collaborative assignments that allow students to work together online and during class.

When designing a hybrid course, it is important to focus more on student interaction than the delivery mode of the course. Create activities that require students to engage in the course content and with each other by sustaining conversations and distributing due dates for assignments throughout the week.
Why Is This Important?
Hybrid courses can benefit from the convenience and personalization of online work as well as the rich, face-to-face interactions in the classroom. You have the freedom to determine how much time should be spent in each mode, and what instructional activities should be online or in-class depending on the course goals and available resources.
Increased access to and availability of course materials.

Traditionally, lectures, textbooks, and related course materials are the primary ways in which students gain access to the content of the course. With a hybrid course, you have a much wider range of options from which to choose.
Broader understanding and deeper exploration of topics and concepts.

By blending online and in-class instruction, you can allow for a more effective use of class time and ensure that more students are participating in meaningful ways across the semester.