On the side of a winding road, a man leans against his parked Jeep and looks over a map.
An Effective Syllabus
The roadmap for your course, the syllabus should not "feel like disjointed assignments and activities, but instead an organized and meaningful journey" (Slattery and Carlson, 2005).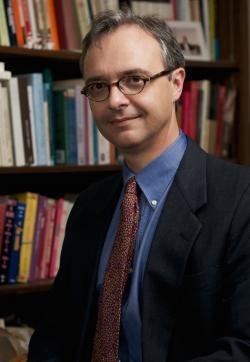 Andrew Dell'Antonio, Butler School of Music, has grown more involved in disability advocacy both on and off campus. As a result of this work, he has been drawn to Universal Design for Learning principles and is applying them in the construction of his syllabus to set the class climate, identify specific learning expectations, and discuss options and accessibility.
How Can I Do This?
Your syllabus is an invitation to your students to participate in your course by informing them of its rationale, learning outcomes, and content.  It is a contract between instructors and students that sets expectations for assignments and assessments. It is a guiding reference, offering a schedule, office hours, and available resources. 
What is required on the syllabus?

In Texas, the legislature mandates that every course syllabus is given to students and made available online. The public version of your syllabus must include a brief description of each major course requirement (including each major assignment and examination), learning objectives for the course, a general description of the subject matter of each lecture or discussion, and any required or recommended readings.

We recommend your syllabus include the following:
What are best practices for creating your syllabus?

Although there is no one way to create an effective syllabus, the strongest syllabi come from well-designed courses. When you know the outcomes you want your students to learn, and you've determined how best to measure those outcomes, you are ready to map out the journey you want your students to take through your course. Here are some ideas when designing your course's roadmap:
How do I get students to read the syllabus?

"I wish they would just read the syllabus. So many questions can be answered if they just read the syllabus." Sound familiar? In addition to instructional strategies like the syllabus quiz, consider the design of your syllabus as an opportunity to capture the attention of and engage your students.
Why Is This Important?
"The syllabus provides the first opportunity faculty have to encourage and guide students to take responsibility for their learning. … When reading a learning-centered syllabus, students learn what is required to achieve the course objectives, and they learn what processes will support their academic success" (O'Brien, Millis, Choen and Diamond, 2008).
An effective syllabus is a powerful teaching tool.

"The syllabus [can be] used as a knowledge repository, explained on the first day of class and never addressed again, or [as] a knowledge guide, introduced the first day and referred to repeatedly during the semester as a road map" (Doolittle & Lusk, 2007, p. 74).
An effective syllabus motivates students to learn.

"The more students believe they operate under their own control, the greater is their learning motivation" (Hativa, 2000). 
An effective syllabus is a contract between you and your students.

It may seem alarmingly serious to refer to the syllabus as a contract. While it's not something to stress about, it is important to understand that should grade or policy grievances arise, your syllabus may be reviewed by your department chair or administrator (Fink, 2012). Knowing this in advance is helpful to both you and your students.
Fall 2023 Resources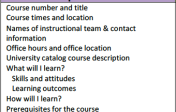 Explore our sample syllabus for ideas in formatting, creating a warm tone, inclusive policies, and clear communication of outcomes, evaluations, and expectations. This syllabus has been updated with suggestions and recommendations for the Fall 2023 semester.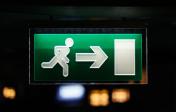 This syllabus template includes all of the content included on the Provost's Office helpful Your Syllabus at UT Austin webpage. You may use it at your discretion and adapt it for your course as you wish. Except for the "Required Syllabus Content" discussed on this page, all content and most wording are your choice. The more the syllabus is tailored to your course and its content, as well as to your personal style and guidance for students, the more effective it will be.