Sanchez Hall 2014
2021 Technology-Enhanced Learning Symposium
May 11 - 12, 2021 | Zoom
Symposium Theme: "Mind the Gap"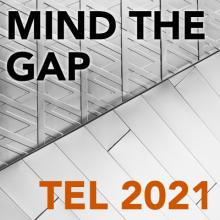 How should we plan to fold these new directions into future semesters in a way that acknowledges the potential of these experiences to instigate positive change? For this year's TEL Symposium, we would like to take a moment to reflect on what new skills or new insights we have gleaned from this year of resilient teaching. What have we learned about our classes, our students, and ourselves during a time in which we had to address issues and concerns that we may not have fully addressed in previous years? What elements of the digital divide and the gaps in our perceptions about the student experience and student realities must we address? What new resources or academic support models need to flex and adapt to new or newly acknowledged realities? What new partners or collaborators (on- or off-campus) have become more vital for our roles as teachers and researchers with our students? What have we learned about the distinctions between digital and in-person learning, what can be digital and what must remain "non-digital"?
Overall, adopting a resilient pedagogy requires planning for and clearly articulating the important interactions that facilitate learning, including all the ways that teachers and students need to communicate with one another, see one another, learn from one another, in a variety of contexts that are important to our learning goals and outcomes. It entails minding all the gaps that we have discovered and finding ways to cross them.  
On our second day, awardees of the 2021 COVID Transformational Online Instruction Contributions (TONIC) Awards will host discussions around their innovative approaches and resource development. Join us to learn more about what is happening in your school or college and get inspired!
Registration
Please make sure that you RSVP for the symposium through the following link: TEL Symposium RSVP We will then share out the Zoom links for each session on Monday May 10.
Symposium Schedule
The following schedule will be updated until the start of the conference.  Unless otherwise indicated, all events will take place in Zoom. Links will be added by Monday May 10.
Tuesday, May 11
Time
Event
9:00 - 9:30am
> Welcome / Orientation

> Kickoff Talk, "Hybrid Teaching: The New Now in Higher Education Pedagogy," Dr. Julie Schell, Assistant Dean for Instructional Continuity and Innovation, College of Fine Arts, and Erin Cunningham (Assistance Professor of Practice, Department of Art and Art History; 3D Area Head of First Year Core Art students, focus on sculpture)
9:40-10:50am
Concurrent Sessions (View Presenters, Abstracts, and Presentation Materials):

Opening TONIC Panel (Facilitator: TONIC awardee Anne Braseby, CTL)

> TONIC: Educational Development (Farrell Rodriguez, Holloway, Schoonhoven)

---

15-min Presentations I (Facilitator, Matt Russell, CTL)

1. "Constructing Resources for Active Online Learning" (Van de Geijn/Myers)

2. "Micro-credentials: Using Badges to Promote Learner Outcomes and Engagement" (Horton, French)

3. "Flagging Concerns: Proctorio and Other Unlearned Lessons from 2020" (Emison)

---

15-min Presentations II (Facilitator: Heather Pleasants, Director of ELI, Senior Assessment Specialist, CTL)

​4."Can You Choose Your Own Adventure? The Debate about Gamifying your Classroom Content" (Stewart, Litten)

5. "Best Apps for Multimodal, Inclusive Dialogue" (Ropp)

---

Lightning Talks & Discussion I (Facilitator: Quinn Stewart, School of Information, IT Lab)

6. "Supporting Students' Technical and Creative Projects through Collaborative Online Learning" (Johns)

7 "How I Used Perusall to Flip Actuarial Math Courses" (Harper)
11:00-12:15pm
Concurrent Sessions (View Presenters, Abstracts, and Presentation Materials):

> Special Session: Leveraging Hypothes.is Social Annotation for Student Engagement (Dean, Cortsen, Williams, Poteet, Izaguirre III)

---

15-min Presentations III (Facilitator, Matt Russell, CTL)

8. "Global Shakespeares: A Transatlantic Tempest" (Loehlin, Stromberger, Thurman)

9. "Visualizing the Molecular World in 3D with AR and VR" (Procko)

10. "Developing & Delivering Scalable, Interactive, Technologically-Enhanced, Hybrid Introductory Courses" (Mintz)

---

15-min Presentations IV (Facilitator, Tristin Hooker, Department of Rhetoric and Writing)

11. "Simulated Clinical Experiences (SCEs) in Virtual Learning Environments (VLEs) at Dell Medical School" (Myers)

12. "Medieval Histories Meet Modern Technologies" (Newman)

13. "From Textbook to SuperPowerPoint: Delivering Course Content More Effectively" (Waldman)

---

Lightning Talks & Discussions II Facilitator: Quinn Stewart, School of Information, IT Lab)

​14. ​"Welcome to My Living Room: Teaching Teachers During a Pandemic" (Schroeder-Arce)

15. "Implementing UDL in a Latinx classroom" (Perez-Zetune)

16. "FlipGrid Bingo to help students connect" (Puperi)

17. "Samples of Caring in First-Year Chemistry: Lessons Learned" (Walker, Woodruff)
12:15-1:00pm
Lunch (on your own)
1:00-1:45pm

Keynote: "Building Community with Equity and Care," Dr. Maha Bali, American University of Cairo (Introduction, Kaitlyn Farrell Rodriguez, Ph.D. Department of English, 2021 Livingston Outstanding Graduate Student Academic Employee and TONIC Awardee)

Click here to link to presentation slides from Dr. Bali's Keynote

2:00-3:15pm
Hands-On Workshops I (View Workshop Descriptions):

18. "From Remote Teaching to Innovative Learning Experiences" (Ford, Gandhi)

19. "I Didn't Know They DID That! Canvas Quizzes are the Feedback App You've Been Searching For," (French)

20. "Role-Playing Design Thinking through Zoom" (Starbuck)
---
Wednesday, May 12
Time
Event
9:00-9:30am
Welcome / Orientation
9:30-10:15am
Concurrent TONIC Panels (Description of TONIC Awardee Projects)

TONIC Panel Discussion 1, Business, Communication (Quintanilla, Tuttle, Lugo-Neris, Bays) [Facilitator: Ben Bays, Moody College of Communication]

TONIC Panel Discussion 2, Engineering (Hempel-Medina, Telang, Connolly, Randall) [Facilitator, Matt Russell, CTL]

TONIC Panel Discussion 3, College of Fine Arts (McMaster, Durst, Gionfriddo, Johnson) [Facilitator: Julie Schell, College of Fine Arts]
10:30-11:15am
Concurrent TONIC Panels (Description of TONIC Awardee Projects)

TONIC Panel Discussion 4, Texas Institute for Discovery Education in Science [TIDES] (Campitelli, Finkelstein, Labrake, Patterson) [Facilitator: TONIC awardee Anne Braseby, CTL]

TONIC Panel Discussion 5, College of Liberal Arts (Fawaz, Rice, Alexandrova) [Facilitator: Heather Pleasants, Director of ELI, Senior Assessment Specialist, CTL]

TONIC Panel Discussion 6, College of Natural Sciences (Quimby, Thijs, Stovall, Bruner, Straumanis, Sparks, Yang) [Facilitator, Matt Russell, CTL]
11:15am-12:00pm
Lunch (on your own)
12:00-1:00pm
Hands-On Workshops II (View Workshop Descriptions)

21. "Concept mapping-based learning assessment with Sero!" (Moon)

22. "Communities of Care: Digital Archiving as Community-Engaged Learning" (Schuster, Foltz)