Published:
April 29, 2022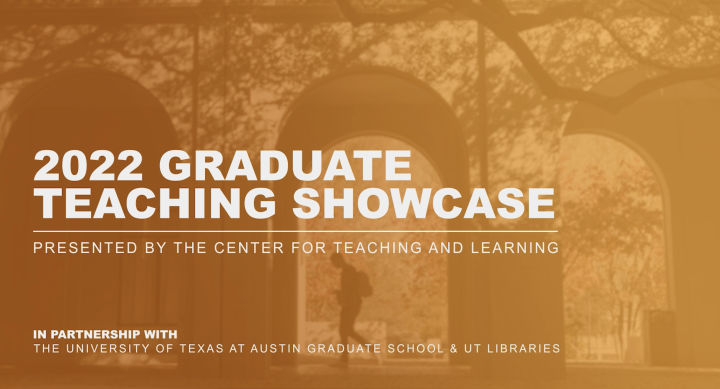 Lessons learned from solving puzzles in escape rooms, teaching in community schools and prisons, and leading parties at zoos were just some of the stories shared at the 6th annual Graduate Teaching Showcase presented by the Center for Teaching and Learning in partnership with the Graduate School and UT Libraries. Each year, the Graduate Teaching Showcase features a small group of graduate students who have competed for an opportunity to give a short TED talk style presentation on a meaningful teaching topic and how it impacted their classroom. The six presenters this year told stories of resilience, inclusivity, engagement, collaboration, and innovation from all across campus, from the Humanities to the Arts to the Natural Sciences. We are so thrilled to have been able to celebrate these six outstanding graduate student instructors.
The 40+ attendees at the event, held Friday, March 26th via Zoom, ranged from Deans to faculty, from students to librarians and other UT staff. We are especially grateful for the affordances of a virtual event that allowed our presenters' family members to attend and see them demonstrate their academic and pedagogical expertise - something usually reserved for closed-off academic conferences.
This year's presentations were grouped into two clusters around themes of engagement and collaboration, with a 15-minute break-out room discussion period following each. At the end of their talks, each speaker posed a probing question that invited attendees to reflect on their own practices. In the breakout rooms, participants had the opportunity to share these reflections and discuss potential implementation strategies with other attendees, and in many cases, the speakers themselves.
We would like to extend a special thank you to Dr. Jim Cox, Associate Dean of Graduate Studies and Jane and Roland Blumberg Centennial Professor of English, for opening the event with a reflection on the importance of teaching, and to the UT Libraries and CTL staff who helped support the event.
All six 2022 presentations, as well as past presentations, can now be seen in our GTS video collection.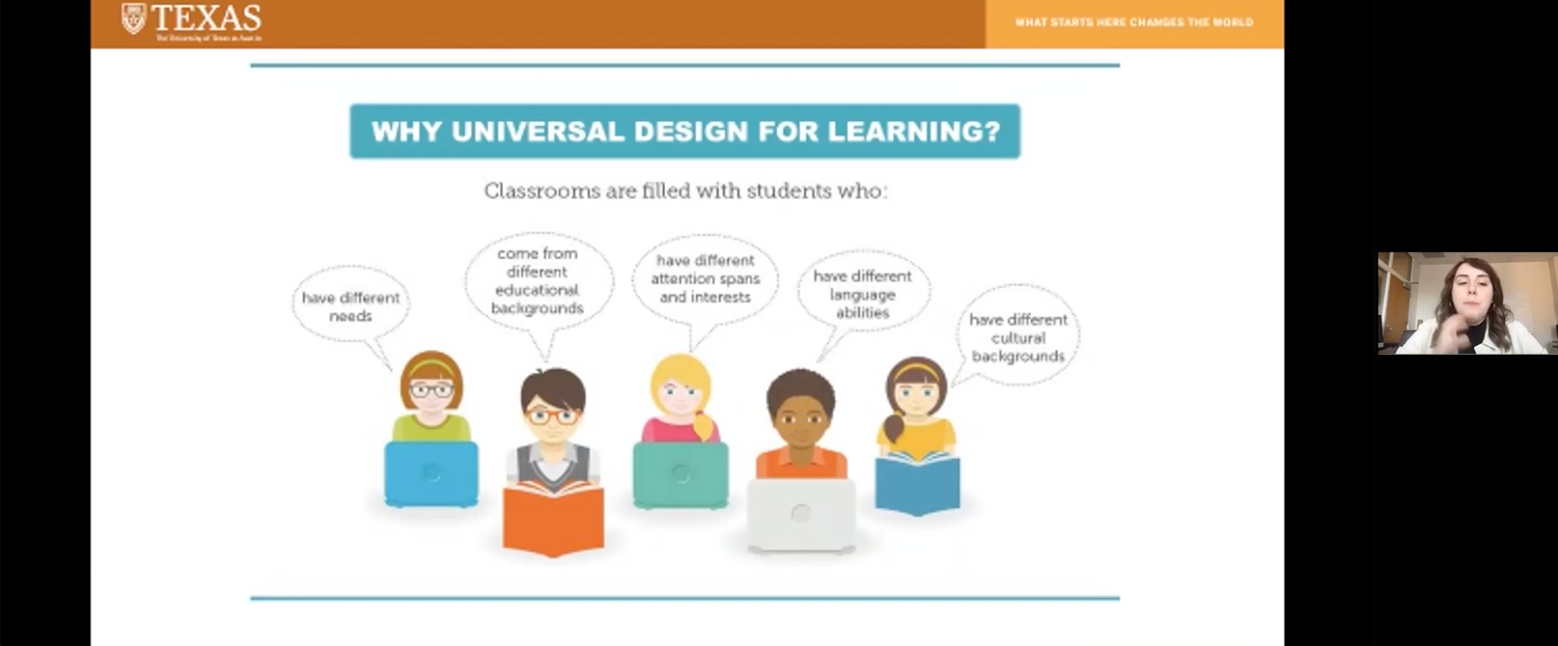 ---
2022 Presenters and Abstracts
Abigail Adams, Department of English
Why I've Given Up Grading
Though initially skeptical of nontraditional grading practices, I have found both myself and my students transformed by the freedom to collaborate more equitably, to focus on growth through revision, to take risks, and to assess our success in the classroom based on our personal goals. The significant barriers to education access for the students I have taught for the past two years both in prison and online amidst pandemic lockdowns have made clear to me the importance of using assessment styles that allow all students to pursue creative and risk-taking work. Perhaps above all, I have found that contract grading has shifted my relationship with my students, allowing us to work together as collaborators. By sharing my experiences with contract grading I hope to inspire others to give up the anxiety that often comes with assessment for both students and instructors and embrace modes of assessment that foster flexibility, collaboration, and creativity.
---
Cat Gallegher, Department of Geography
My Classroom was a Zoo
Rabbits, snakes, and chinchillas, oh my! Before attending graduate school and working as a Teaching Assistant, I worked in Conservation Education at the Prospect Park Zoo, teaching zoo birthday parties to children. In my time there, I learned many valuable lessons about inclusive teaching and creating engaging lesson plans that I use when teaching undergraduate students every week, and in this session, I will share how I apply what I learned to the college classroom.
---
Aruna Kharoud, Department of English
Write On: Bolstering writing through student-centered, technology-efficient strategies 
In this talk, I present two student-centered strategies that guide my writing pedagogy and provide key insights for instructors who want to create meaningful, effective, and equitable writing assignments. By using reflective note-taking and teaching students self-advocacy in the writing process, I illustrate how writing is integral to creating vibrant classrooms and enriching learning environments. These student-centered strategies are technology-friendly and easily incorporated into one-on-one and small-group settings across a wide range of disciplines. I will share how instructors can employ these insights to make their classrooms more equitable, growth-oriented spaces for all students.
---
Simon Lee, Department of Molecular Bioscience
Teaching and Learning: Not just a requirement
"Be the TA that you wish to have." These words from the office of undergraduate studies to potential TAs changed the way I thought about teaching. Teaching was a requirement for my degree program, and the course I taught was a requirement for my students' degree programs, but our interests could not be more different. I am a research scientist while they were pursuing careers in medical fields.  Over the course of teaching, my struggle was how to make the course interesting to students whose approaches were so different from my own. In this presentation I will talk about how I changed my thinking (and my students') to engage their interests in the scientific process. Teaching and learning can be a requirement for the TA and students, but there is a lot beyond the requirement.
---
Mohit Mehta, Department of Curriculum and Instruction and the Center for Asian American Studies
Community Based Learning: Engaging UT Students in Relationships of Care and Reciprocity
The need for undergraduate students to be engaged in the community is greater than ever before. Austin is one of the fastest growing cities in the country, but with a concerning rate of gentrification and displacement. At the same time, new students and communities including Central American (im)migrants, and new refugee families are arriving to gentrified neighborhoods. In our capstone course in the Race, Indigeneity and Migration course, one of UT's newest majors, students interact with newcomer students in a local elementary school, and think critically about what it means to perform community based learning (CBL).
---
James Montaño, Department of Theater and Dance
Escaping the (Class) Room: Gamifying Group Learning in History
How can our pedagogy structurally reflect the subject we teach? As a graduate instructor of theater, my pedagogy is designed to reflect the ethos of performance-making. For theater history, I have aimed to take this further by crafting exams as immersive digital escape rooms, which ask students to be performer-collaborators and share knowledge to solve a variety of puzzles to "escape the exam." This form of knowledge sharing provides students with a space to practice processes of collaboration and provides the instructor with a space to create narrative, rethink teachable knowledge, and have fun—all at the same time.