Published:
February 27, 2020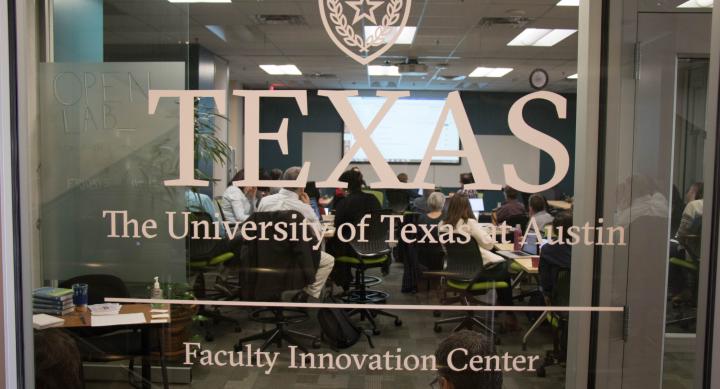 Eyes on Teaching is an annual campus-wide event hosted by the Center for Teaching and Learning and the Provost's Teaching Fellows that highlights the benefits of non-evaluative peer observation and cross-disciplinary conversations. For two days each February, the doors to many of UT Austin's classrooms are opened for a group of faculty, staff, and graduate student visitors to observe one class session. After the observation, the course Docent facilitates reflective conversation among the observers and the instructor. This year 72 courses across nearly every college and school were observed on February 12-13. Below are some reflections from three different Eyes on Teaching participants: an Observed Instructor, an Observer, and a Docent. 
Feel free to read by scrolling down the page or you may use the links below.
---
Tolga Ozyurtcu, Assistant Professor of Instruction, Kinesiology and Health Education: Observed Instructor
"Everywhere I go, it's me and me. Half of me living my life, the other half watching me live it." ― Sandra Cisneros
In his hilarious and poignant appraisal of MTV's "the Real World," cultural critic Chuck Klosterman argues that only the first season of the seminal reality show can be taken as "real."  Klosterman suggests that once the end result was known to the viewing public, the behavior of all future participants in the program was guided and tempered by their assumptions about the final product.  Just as it's difficult to ignore a camera in the room, it's hard to say that educators just go about our business when we know we are being observed.  We are, after all, human.  The spirit of Eyes on Teaching (EOT) is one of collegiality, respect, and mutual learning through observation.  But it is still observation— and this can be daunting!
Last week marked the third time that I have been observed in EOT, a program that I have come to love, both as the observer and the observed.  I'll admit that I "stacked the deck" in previous years: I made sure to line up a class session I was confident in, a lecture and discussion on aesthetic philosophy that begins with the question, "How do I know I'm listening to a rap song?"  (It's a good one, I promise.)  This year, however, was more intimidating.  My visitors were coming to my large, lecture hall class, and the date coincided with a day dedicated almost purely to student-driven discussion.  If you teach in these settings, you can appreciate the challenge: the more eyes and ears in a room, the more reluctant the average student is to speak up. 

The group was able to discuss the experience in the CTL over coffee and cookies. Photo by Sarah Schoohoven
I'll admit, as the date approached and the anxiety of being observed festered, I toyed with the idea of shifting gears to something that I could better control. Again, I'm human: I knew that my peers across campus weren't coming to evaluate me, but I wanted to put on a good show!  In the end, I stuck with the original plan: a wide-ranging discussion on the subject of performance enhancing drugs, including the touchy matter of using substances to gain an advantage in academic performance.  As I walked toward the classroom, I met my observers, but I also met my second-self, the nagging observer we can't ever leave behind: Was I about disappoint these kind folks who took time out of their busy schedules to see me? Could I claim a laptop malfunction and just abort the whole class? For those precious few moments as the last students filtered in, I was convinced that I would finally be outed as a fraud, I'd get a call from President Fenves after class, and would be clearing out my desk by the end of the afternoon. 
Of course, none of these things happened.  It went great!  I'll take some credit for setting the stage with a deliberate plan for the discussion, but the real credit goes to the students: they spoke up, engaged with each other, had the courage to disagree, and the courage to laugh at themselves when appropriate.  Over coffee and cookies afterwards, my observers sang my praises and placed an olive wreath on my head…well, not quite, but we had a great discussion and I think I was able to help them think about their approach to the classroom, which is all I could hope for.
In the end, I hope that my experience amounts to an endorsement of the great value of observation.  Teaching is many things, including a creative and performative act that is necessarily observed by our students and ourselves. Given how seen we are, it is a little odd that many of us are intimidated by the prospect of bringing in peers to observe our craft. I'd like to encourage my fellow faculty members to embrace their fears and take advantages of future opportunities for peer-observation, whether through formal initiatives such as EOT or through less formal channels.  Toward that end, I'd like to invite the campus community to any of my classes at any time, just shoot me a note to make sure it's not exam day! 
---
Deborah Walker, Associate Professor of Instruction, Chemistry: Observer
February always seems rough: the content turns tougher, it's still cold and dark outside, and students seem extra groggy like they'd rather be in bed. Then the buzz surrounding Eyes on Teaching grows. It seems to come on like springtime: a few chit-chats like birdsong in those shuffling moments between classes. I notice faculty asking one another: "Which class are you attending this year?" and "What did you enjoy about last year?" Then as EoT gets closer, longer and deeper conversations emerge. "Did you get your CIS comments yet?" "How do you engage your students?" "I'm flustered because I can't seem to improve…." "Oh, you should try…" The campus is aflutter with teachers sharing with teachers their tidbits and words of encouragement.
On the day of, I enter my own class with an extra bounce in my step. I'm hopeful about what I may get out of the day. This year I'm struggling more to engage my students and the hope of maybe finding some answers, or even some ideas, lifts my spirits.
A group of us older-than-21-year-olds sit together in the class we will observe. A handout showing only 10 powerpoint slides gets us talking in nervous tones: "Is this ALL of the slides for today?" "No, that's for two days." And "I may need to rethink my slides." The class begins with an introduction and group work. The students are fully engaged, as are the faculty and assistants. As the students work, we faculty discuss our observations and contrast with what we see in our reality: forward-facing classrooms limit student interactions and group size, lack of assistants leads to frustrated students and unanswered questions.
We take note that no devices were in use as the professor asks a student to summarize the point of the assignment, then moves on to the next topic.
After class, we gather in the "cookie room" in MAI to discuss further our observations, concerns, and curious questions. I got so many tidbits that I can't scribble them all down. Twenty minutes later I find myself trying out some of the advice—and it works beautifully. I'm overjoyed as the students respond with continued discussion. It's just another normal EoT day. Just like springtime returning.
---
Amelia Acker, Assistant Professor, School of Information: Docent
Last week I was able to participate as a docent for two classrooms during Eyes on Teaching 2020. Since this was my first time participating, I picked two undergraduate courses to observe in buildings I had never visited on campus.
In advance of classroom visits, docents coordinate with observers and the instructor about the context, expectations, and goals of the course. After observing the course, small groups of faculty meet with each other and often the instructor that they have just observed to share thoughts, ask questions, and learn more about teaching students across our campus.
On Day 1, I rode my bike from the School of Information to the Steve Hicks School of Justice to meet my first group of classroom observers. We met in front of the Utopia theatre to observe Professor Diane Rhodes's class "Foundations of Social Justice."  After a series of active and discussion-based learning techniques, she concluded the class session with an "exit ticket" technique (pictured below) to ask students more about their knowledge of the day's topic "positionality" as a concept, and any further questions they might have about the week's theme. By writing their names and ideas on a 3X5 card, the exit ticket allows instructors to capture immediate feedback about concepts covered in that day's activities as well as take attendance for a large class.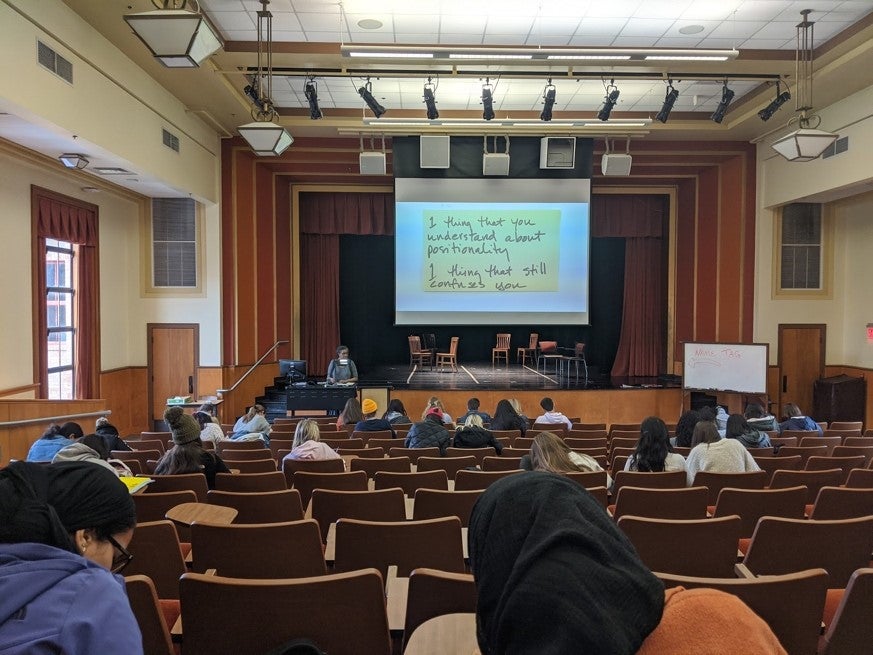 Professor Diane McDaniel Rhodes (Social Work) employs an "Exit Ticket" activity to gauge students' understanding of the concepts covered in class. Photo by Amelia Acker.
In our debrief after the course with Professor Rhodes, a small group of observers were able to chat about her experience teaching undergraduates at UT, the students that enroll in social work courses, and exercises that engage students and making the most of our classrooms such as using the auditorium's stage or the exit card technique. Each of the observers shared our own experiences with typical classroom size and room constraints they face when working in classrooms.
On Day 2, I met a new set of observers in the McCombs School of Business. We convened to observe Professor Katie Gray's "Web Application Development" course for Management of Information Systems majors.
The first thing we noticed in Professor Gray's class on web development was that students do not bring laptops to class! This was unexpected, but fascinating to observe. Instead of students using their own machines to follow along in class, Professor Gray uses a number of paper handouts and a screen projector of the Piazza learning management environment to look at programming assignments and resources for students. She also leverages the two large white boards beneath the dual screens so that students can track the day's agenda and capture their own contributions to the lecture.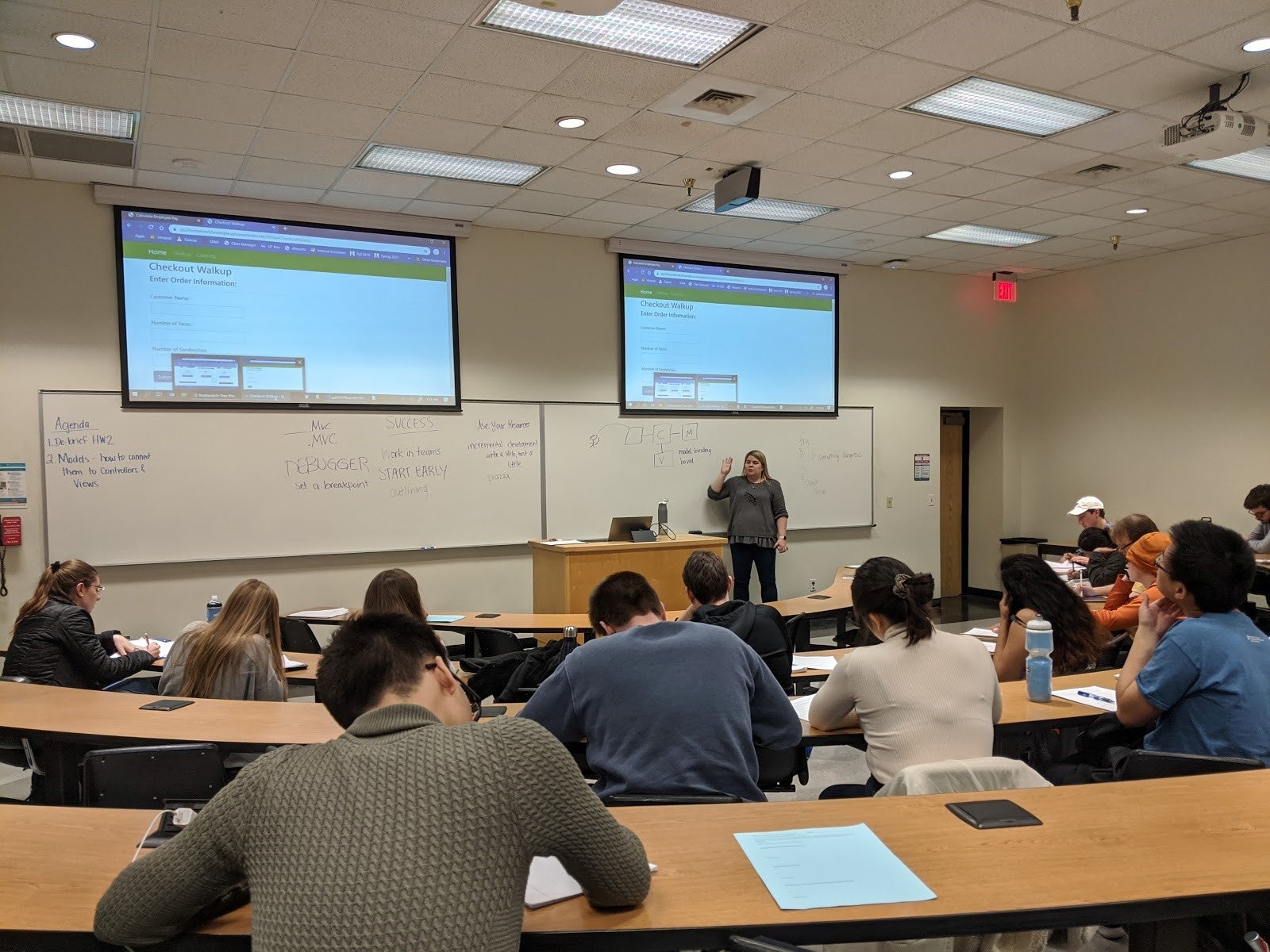 Photo Caption: Professor Katie Gray wrangles projections and good-old-fashioned dry erase boards in her computer-less web development course. Photo by Amelia Acker.
After the class during we met with Professor Gray and we were able to hear more about how the scaffolding from this class that results in a team project connects to another required course in the program series on project management. Not every student who takes web application development will be programming apps as part of their day-to-day work, but most will eventually work in teams developing and maintaining data-intensive products built with code--so managing development with communication and sharing success strategies in small teams is essential to accomplishing goals.
As an educator at UT, I was so grateful for these two days of peer teaching observations. Both classes gave me a window into teaching different kinds of content in diverse and engaging ways, as well as serving the many different kinds of students. It was a wonderful opportunity for us to witness the culture of teaching in action, see the passion and expertise that our colleagues bring to their classrooms, as well as getting a glimpse at the many unique places that learning happens on our campus every day. 
__
If you would like more information about Eyes on Teaching, or would like to participate in the future, please reach out to eyesonteaching@utexas.edu. We look forward to observing and reflecting with you in February 2021!
---

Sarah Schoonhoven (Associate Project Manager, Center for Teaching and Learning), Sarah works to create programming for instructors at the faculty, staff, and graduate student level in the UT Center for Teaching and Learning and strives to center the full, radical inclusion of LGBTQA+ students and instructors in her work.
---