Published:
April 26, 2019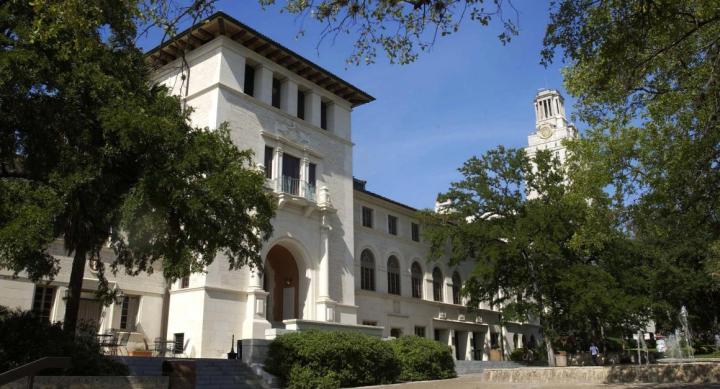 This summer, the Center for Teaching and Learning is pleased to host the Big 12 Teaching and Learning conference on the campus of UT-Austin.  We recently had the opportunity to interview one of our keynote speakers, Adashima Oyo, on topics related to higher education issues and graduate student professional development.
| | |
| --- | --- |
| | Adashima Oyo is a doctoral student in the CUNY Graduate Center's Social Welfare program, where she studies health and educational disparities in the US. She also directs the HASTAC Scholars program, a sub-network within the HASTAC community that brings together 200 or so graduate and undergraduate students interested in digital research/pedagogy and public engagement. |
Tell me about your research interests in racial disparities in health and higher education, and how the two intersect. How did you become interested in pursuing this research?
As an undergraduate, I was an English major, but I was always more interested in the health conditions of the writers and how their personal lives seeped into their writings. I was fascinated by their health conditions like drug addiction or undiagnosed mental health problems like depression and narcissism. Since I didn't really enjoy most of the books I was assigned to read, to make my college years more enjoyable, I decided to pick up a few minors. One of my minors was Health Sciences. I enjoyed this field so much that I enrolled in a Master of Public Health program two weeks after graduation. Around this same time, my sister died. She suffered from a vicious addiction to crack cocaine and was also HIV-positive. Ironically, it was my sister's death that awakened me; her passing had a significant impact on my career path. When I reflected on her passing, I felt incredibly disturbed that she wasn't able to get the healthcare services she needed. It prompted me to focus my master's research paper on the influence of abuse (sexual, physical or drug) and HIV infection among Black women. 
In doing my research, I learned about all of the other health conditions that were disproportionately burdening Black people. After I completed my graduate studies, I contemplated attending medical school. I deferred enrollment and started working in various healthcare organizations. I acquired a lot of first-hand experiences about the problem of health disparities by race/ethnicity in the USA. I was no longer just reading about the problem. I also realized how much the "experts" didn't really know and how little progress had been made. After working for 10 years in the field, I quit my job and decided I wanted to be part of the people who were investigating solutions. While I appreciated the efforts of the various research scientists and healthcare professionals working to address health disparities, I was troubled by the lack of racial/ethnic diversity among both of these groups. For example, even though Blacks and Latinos are disproportionately burdened by health disparities, and we are projected to become the combined majority population in the near future, we are largely missing among research scientists who are investigating solutions for health equity. There is also a shortage of racial/ethnic diversity in the healthcare professions. 
Colleges and universities play a critical role in this effort since students become the future research scientists and healthcare professionals. If there are racial disparities in higher education, it will translate to racial disparities in the workforce. Researchers attribute some health disparities to cultural and racial differences between health providers and the communities they serve. Increasing racial/ethnic diversity is not a cure all for eliminating health disparities and achieving health equity. However, this strategy coupled with other strategies may yield positive results. 
One of your research interests addresses the need for greater representation of faculty of color in higher education. How does this research affect your own outlook on graduate education and the "traditional" path to academia? How does it affect your teaching practices as a higher ed instructor?
When I started my PhD studies, I became more interested with racial disparities in higher education. Really, it was more like my anger peaked about the issue. I really hate the fact that the higher one goes in their formal educational pursuits, the fewer the number of Blacks and Latinos you see in the classroom or contributing to scholarship. All through my college experience, unless I took a course that was specifically about people of color, the authors of the books and articles I read were usually White. Sure, the content was still valid (usually), but I felt it was important to hear other voices, too. It was apparent that authors and scholars of color were sidelined. Similarly, most of my professors were not people of color. Again, I'm not suggesting White professors offer no value. They do! Still, I realize it's important for students to see faculty on campus who look like them and share some of their experiences. Similarly, students need to be exposed to great scholars and authors of various backgrounds.  Otherwise, a student can falsely believe that there is no place for them in the academy. Even with my background of being a third-generation college student, there were times when I felt like this during my studies. As an adjunct, I make a concerted effort to include authors of color or subject matter that focus on people of color. For example, in one class I teach about healthcare, I assign students to read the article, "Beyond Berets: The Black Panthers as Health Activists." I also include lectures about the contributions that W.E.B. Du Bois made to the field of health sciences. I have also had so many students come up to during and after the semester expressing gratitude for having an instructor they could relate to on various levels.   
Congratulations on your new role as the HASTAC Scholars Director and Futures Initiative Fellow. Can you tell me more about HASTAC and the Futures Initiative, and how your role fits into these two interrelated programs?
Thank you. I have really enjoyed working with the Futures Initiative and HASTAC Scholars! I recently heard someone describe the Futures Initiative as a "think and do tank." I think the do part is what stuck out to me the most. Instead of just conceptualizing or talking about how higher education needs to be inclusive and equitable for all, the Futures Initiative is actually doing work to put these ideas into place. As part of my Futures Initiative Fellowship, I work as the Director of HASTAC Scholars, which is a social networking space for graduate and undergraduate students from all over the world. It's older than Facebook! On this digital platform, students share their research ideas on blog posts, interview leading scholars, work on collaborative book discussions and reviews and so much more. We recently kicked off Digital Fridays, where students present webinars about their research interests or topics that are relevant to higher education.
As a Ph.D. candidate and instructor at CUNY, and now with your roles in HASTAC and the Futures Initiative, how do you balance being a student, teacher, and an engaged scholar? How do these roles intersect and inform each other?
Honestly, some days I balance it really well and other days I'm a disaster. The fact that I really enjoy the work that I'm doing as a student, teacher and researcher really helps me to keep going. I also try to make time for "nothing days," where I can just reconnect with my family and friends. My husband is also a PhD student. He's studying computer science, so he understands when I'm having hectic days of trying to manage everything since he's in the same boat. It wouldn't be impossible, but I do think my journey would be more difficult if I didn't have a partner who was in it with me.
What are some of the innovative practices you feel like you've brought to the classes you teach? What are some of the innovative teaching practices or perspectives you feel like you are bringing to the Futures Initiative?
During my first semester of teaching in the classroom, I think I played it very safe. After participating in the Futures Initiative and just sharing strategies from other teachers (from Adjunct Professors to Distinguished Professors), I think my pedagogy improved or at least I became much more comfortable with applying innovative practices in the classroom. I tried unique ways of getting everyone in the classroom to participate with Think-Pair-Share activities; instead of having a final exam I assigned students to teach back part of the lecture to the class through group presentations. Also, I decided not to use a traditional textbook and obtain content from other sources. For example, students review TEDtalks, documentaries, peer-reviewed journal articles, and a number of different sources to learn material. I also remind students to question "the experts and scholars" in the field. I constantly try to empower my students to believe that they are experts, too. While I review and grade their assignments, I also make sure the students know that their opinions matter by having peer-reviews and cross-learning opportunities in the classroom. As far as perspectives or practices that I bring to the Futures Initiative, I think all of the fellows bring their own experiences and ideas to our meetings and initiatives. It's a very collaborative and diverse environment. That said, I do think my identity of being a Black woman will always influence anything I am working on. 
The HASTAC network has had some very timely discussions about graduate student development, the need for self-care and openness about mental health, and the need for professional development for alt-ac careers. What are some of the issues related to graduate education that you hope to initiate or support at HASTAC?
Yes, we have had some rich discussions recently. I enjoyed the Digital Fridays where we talked about self-care and mental health in graduate school. The discussion about imposter syndrome was very relevant, although many people are not comfortable discussing it publicly. Last week, we had another good discussion about the insider/outsider positionality of the researcher and its implications. Other topics I would like to discuss with the HASTAC Scholars and Futures Initiative community include the overuse of adjunct faculty in higher education, rethinking admission policies to allow greater access to higher education, alt-ac careers, mentoring support for students and faculty of color, critical university studies and so many other topics that I think are important.  
CUNY, like many of the universities in the Big XII, is a large public university. What role do you think that large public universities have in changing the landscape of higher education, and why?
I'll start with the cost factor. I have friends who have been saddled with debt, I mean large six-figure debt, as a result of attending private colleges and universities. The cost of attending private schools is absolutely absurd. However, costs are also rising at public universities like CUNY. On one hand, colleges and universities are tasked with educating students and producing scholarship, but they are also big businesses with their own financial agendas. I think there needs to be continued efforts to make college education accessible for low-income students without them having to take out loans. It may sound a bit radical, but I'm in favor of public universities being free. Why should public education stop being free after K-12? Also, given the growing racial and ethnic diversity in the U.S., I believe higher education needs to make greater strides to ensure that there are more faculty of color on campuses. Many students of color, particularly those who attend predominately White colleges and universities, often report feelings of loneliness and isolation. Other than increasing faculty of color, I think more work needs to be done to make sure all students feel welcome and valued. Part of that might mean including culturally relevant pedagogy. Regardless of whether a university is public or private, access should be equitable and strategies must be in place to prevent attrition, especially among students of color and low-income students. I will end with one of my favorite quotes from Gloria Ladson-Billings. She questions, "how can the full range of scholarship be explored if whole groups of people are systematically excluded from participating in the process of knowledge and production?" The short answer is, it is not possible, and to insist or perpetuate anything contrary is a form of social injustice.