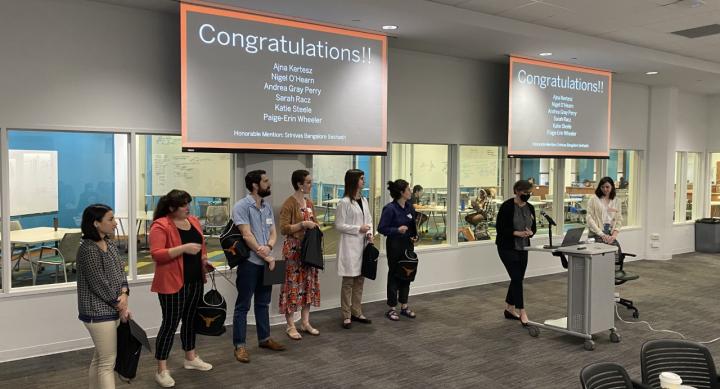 What better way to start a Friday morning than eating breakfast tacos, playing with spaghetti, and talking about teaching? In its first in-person iteration in three years, the 7th Annual Graduate Teaching Showcase did not disappoint. Each year, the Graduate Teaching Showcase features a small group of graduate students who competed for an opportunity to give a short TED talk-type presentation on a teaching topic close to their hearts. This year, 40 + members of the UT teaching community, campus leadership, students, and faculty gathered together to hear the stories of teaching from six outstanding graduate student instructors on themes centered around the importance of play and hands-on learning activities that bring the students' world into the learning experience; the role of instructor vulnerability in connecting more deeply with students; the true gift of giving students agency over their own learning; and finally, deep consideration of what assessment really means and how to do it differently. We could not be more proud of our presenters:
Ajna F. Kertesz, Department of Psychology, I know I sound different, so I talk about it

Nigel O'Hearn, Department of English, In-class performance as analytical method: Teaching dramatic literature through student-generated performance

Andrea Gray Perry, RN, School of Nursing, Empowering healthcare students using Boal's Forum Theater model

Sarah Racz, Department of Physics, The physics of spaghetti breaking: Relearning physical intuition through inquiry-based methods

Katie Steele, Department of Psychology, Assessing student learning through interactive museum activities

Paige-Erin Wheeler, Department of Linguistics, Successfully failing: How shifting my mindset changed my classroom
 To view these presentations, and those from years past, please visit our Vimeo page.