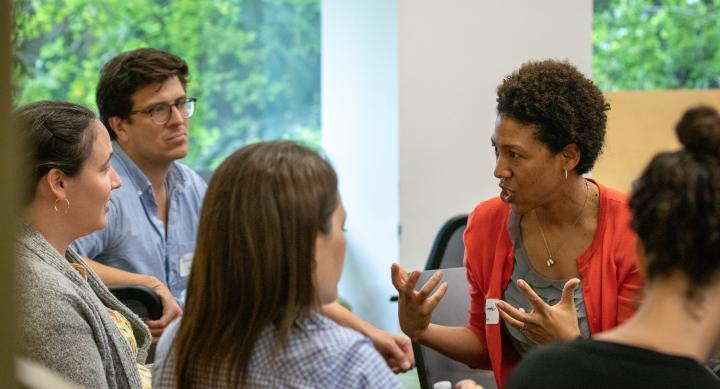 ---
2023-2024 Grantees
Berit Batterton, PhD Candidate
Hannah S. Rempel, PhD Candidate           
Mel Neill, PhD Student
Dr. Christopher Biggs, Assistant Professor of Instruction
The University of Texas Marine Science Institute
Developing Inclusive Teaching Frameworks for Campus and Community STEAM Education
---
Rasha Diab, Associate Professor
Fostering Accessible Pedagogy for the DRW Community and Beyond
---
Laura I. Gonzalez, Assistant Professor of Instruction
Biology Instructional Office
Improving Academic Success Through Focused Teaching
---
Di Wang, Assistant Professor of Instruction
College of Liberal Arts
Centering Diverse Learners: Inclusive Assessment Strategies Community
---
ORIGINAL CALL FOR PROPOSALS
The Inclusive Teaching and Learning Instructor Learning Community Grant, open to all instructors (graduate student instructors, lecturers, tenure-track, clinical, tenured), is designed to build instructor capacity for supporting an inclusive campus climate through their teaching in classrooms, clinics, studios, or labs. Funds of up to $2,500 will be awarded for projects that assemble small groups of instructors to discuss and learn together about inclusive teaching and learning practices. Funds can support activities scheduled any time during the summer or fall semester 2023.
Learning communities will gather a minimum of three times. CTL will also interview each member of the learning communities after the FLC has ended to collect key insights, resources, and best practices from the groups in order to inform instructor development efforts around inclusive teaching moving forward.
This year, we are particularly interested in applicants who look to explore activating pedagogical engagement in ways that fully represent the breadth of experience and expertise present within the University of Texas at Austin community.
How do I apply? What is required for the application?
You can apply through our submission form. To help you get ready, here is the information we are requesting. Applications should address all five of the following areas:
1. Description of group
Who is in your group?  Do they come from the same department, or is a multi-disciplinary community? What brings this group together (common social identities, teaching positions, or interests?
How will members be recruited and motivated to participate?
How often will you meet?
2. Community Plan

What is your plan for gatherings/members' participation? (For example, case study discussion and strategizing, syllabus exchange, classroom observations and feedback, discussion of readings about inclusive teaching, etc.)
3. Budget 

How do you intend to spend the grant funds?  (For example, stipends for members of guest speakers, book purchases, tickets/transportation money for an experience that would inform instructor conversations about inclusive teaching, etc.)
4. Outcomes and impacts

What do you want to achieve with this project (For example, increase understanding of best practices, raise campus awareness about student concerns/challenges around inclusive teaching, create resources or curriculum revision plans for UT instructors, etc.) Think about how you'll document this experience, we suggest you consider having someone who is not invested in the experience of your community to join you to act as a documentarian. Consider finding a volunteer/volunteers or using some of the funds from your grant to give someone a stipend for this work. This is not mandatory but if it is part of your plan, please discuss it further here.
5. Dissemination plans

What will the community produce that you can share beyond members' insights? (For example, a workshop modeling and providing practice opportunities for inclusive teaching, a blog post or (set of) Quick CTL video(s) for the CTL website, an article or conference presentation, reporting out at department faculty meetings, etc.)
Who will be able to apply?
Any UT Austin instructor (graduate student instructors, lecturers, tenure-track, clinical, tenured) may apply.
How will the proposals be evaluated?
This is an open call where submissions will be evaluated by a team consisting of CTL staff and faculty. Funds will be awarded to proposals that most clearly demonstrate:
1.    Clear focus on campus climate and inclusive teaching

2.    Substantive rationale for how the proposed activities will support inclusive teaching

3.    Likelihood of success in recruiting and retaining participants

4.    Potential for impact on campus beyond the group's participants

5.    Clear connection between the budget and the proposed project
What is the schedule for submission?
Applications must be submitted for review by April 14, 2023.
What ways can I give back to my UT colleagues?
At the conclusion of this year's grants, CTL will hold an informal showcase to celebrate the work done across the grant categories, discuss outcomes, and reflect on the learning community experience.
Financial Stipulations 
Funds will be transferred to grantees' departments. Funding requests should be consistent with relevant departmental, college, or University policy, Regents' rules, and Texas state law.
If I have further questions, whom do I contact?
Contact Us if you would like to chat about the Instructor Learning Communities Grant.