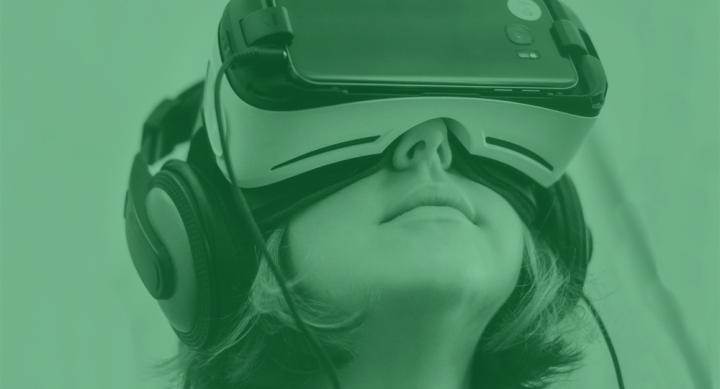 The call for applications for DIY Microgrants has closed. Thank you for your interest!
Virtual Angkor is a collaboration between academics at SensiLab at Monash University, the University of Texas at Austin and Flinders University. The project received the American Historical Association's Roy Rosenzweig Prize for Innovation in Digital History in 2019 and the 2021 Digital Humanities and Multimedia Studies Prize from the Medieval Academy of America. Dr. Clulow received a Microgrant to purchase a VR headset to help complete this project.
What are DIY Microgrants?
The Center for Teaching and Learning is pleased to offer our fourth round of DIY Microgrants for projects and courses in the upcoming academic year (Fall 2021 and/or Spring 2022).  DIY Microgrants are awards that do not exceed $500 and that provide faculty with startup funds to purchase educational technology or software to pilot and/or build technology-enhanced learning experiences for their courses.
How do I apply? What is required for the application?
To help you get ready, here is the information we are requesting:
A list of course(s) and/or projects that will employ the technology
Brief description of your idea for enhancing teaching and learning within your class[es] or projects and how the Microgrant purchase would help you realize this vision. [Max: 400 words].
If you have your own idea then you will need to provide a detailed list of items you would purchase and total cost.
Select how you would "Give Back" to your colleagues at UT, so that we may learn from your experiences and help others and include your project in our database
Who will be able to apply?
Any UT Austin faculty or instructor who has not received Faculty Innovation or Provost Teaching Fellow Grants within the previous calendar year.  Previous DIY Microgrant awardees are eligible to reapply.
What are the preselected options?
We have crafted a list of some common options in order to help expedite the acceptance process. These are based on our work with faculty across UT:
Screencast-o-matic Pro Suite
Includes Screencast-o-matic Pro 3 year subscription, Yeti microphone, and pop filter - approximately $250
For those who are looking for simple and easy to use screencasting software with basic editing capabilities for the PC or Mac. The PC version allows for system audio to be recorded.
Camtasia Software
Includes Camtasia Software - $170
For those who are looking for a more powerful screencasting software that still is user friendly, but who already have a good microphone.
Camtasia Suite
Includes Camtasia software, Yeti microphone, and pop filter - approximately $350
For those who need a good quality microphone and software, we reviewed recommendations by audiophiles to find the best dynamic mic.
Video on the Go
Includes GoPro Hero5 Session camera, SanDisc Extreme microcard 32GB, GoPro External Mic adapter, Rode VideoMicro Microphone, Headstrap and quick-release clip, GoPro Tripod Mount and Shorty Tripod, and Carrying Case - approximately $450
For those who are looking to create video from a first-person perspective to help learners see the technique more clearly or going out in the field to record a mini-lecture at an archaeological or geological site.
VR/AR Goggles 
Googles range in price from Google Cardboard to Oculus Rift (contact the CTL with ideas in this direction)
Faculty or instructors might pilot the use of virtual or augmented reality in the classes or project
What if I have my own idea?
Fantastic! You can also request your own option where you construct your own price list for the edtech you would like to purchase up to but not exceeding $500.  This option will be reviewed by our team as part of the approval process while maintaining the order in which proposals are received.
How will the proposals be evaluated?
This is an open call where submissions are processed as they come in and funds are granted until they are exhausted. Those with their own option will be reviewed according to our evaluation rubric and by our team as part of the approval process while maintaining the order in which applications are received.
What  is the schedule for submission?
The call for proposals has ended for this round (2021-22).
How can I give back?
We believe in paying things forward to the benefit of your colleagues at UT, so we are looking for ways for you to help others enhance their teaching and learning for the success of their students:
Write a CTL News Post about what you learned
Create a How-to Video for our website
Co-present at a Teaching and Learning workshop with the CTL
Co-present within your department or college with the CTL
Provide examples of your work that could be placed within a Deeper Dive Instructional Guide (Canvas course for those who teach at UT)
Be interviewed on camera by the CTL
If I have further questions, whom do I contact?
For further questions, contact Matthew Russell
Selected Microgrant Award Grantees
Gordon Abner
Department: LBJ School
Title: Using Camtasia Suite to Record Demonstration in Data Visualization
---
Gwendolyn Stovall
Department: Molecular Biosciences
Title: Modelling Benchwork at a Distance: Recording Lab Sessions for Remote Learning
---
Elon Lang
Department: Liberal Arts Honors
Title: Digitizing Documents for Community-based Learning
---
Adam Clulow
Department: History
Title: Virtual Angkor: Developing Immersive Experiences Online
---
Alex Karner
Department: Architecture 
Teaching Architecture Online: Flipping the GIS Classroom
---
Elizabeth Catlos
Department: Geological Sciences
Title: Creating Videos on Site (at a dig in the UK) for an Introductory Geology Course
---
Erin Reilly
Department: Journalism 
Title: Using Bluetooth Beacons for Experimental Storytelling
---
Jakki Bailey
Department: School of Information Studies
Title: 3D Storytelling with Unity
---
Deborah Rush
Department: Chemistry
Title: Using Camtasia to Create Flipped Classroom Resources for Chemistry
---
Nina Young
Department: Butler School of Music
Title: Concerts: Filming in the Electronic Music Studio
---
John Daly
Department: Communication Studies
Title: Using Camtasia for Supplemental Instruction in Public Speaking Courses
---
Michael Parent
Department: Educational Psychology
Title: Creating Podcasts for Educational Psychology
Join us on Friday, March 5, from 3-5pm to learn more about how past grantees have used their awards and find out how to craft your own proposals.