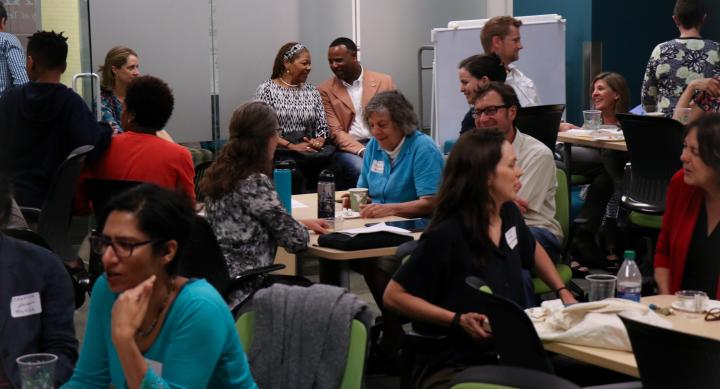 The Provost's Teaching Fellows 2023 Cohort are hard at work designing their three-year PTF initiatives, and use the summertime as an opportunity to share out their progress with other PTFs and collect feedback on their initiative proposals. 
Below are the initiative topics currently being explored and refined by this year's incoming Fellows.
Julia Campbell,

Speech,

Language, & Hearing Sciences

Mentored2Mentor: Increasing the number of clinically certified supervisors in Texas by beginning supervision training in graduate school

Krishna Kumar,

Civil, Architectural, and Environmental Engineering

Teaching Engineering through Murder Mysteries

Samy Ayoub,

Middle Eastern Studies & Law School

Teaching Law and Religion

Stacy Sparks,

Chemistry

Innovations in Large Classes: Building a faculty network to encourage, engage, and support teaching innovation in large class sections

Jules Elkins,

Sustainability Studies

Expanding and Strengthening the Sustainability Studies Degree

Layla Guyot,

Statistics & Data Science

Offering Real-world Research Opportunities for Students Enrolled in Statistics and Data Sciences

Angie Beasley, 

Computer Science

Developing CS Elements 'roadmaps' for CS Elements students toward classes that will be most relevant and useful to their future goals

EG Gionfriddo & Andrew Dell'Antonio, 

Theatre and Dance, Music

 

Building Rigorously Compassionate Syllabi: Fostering Individual Accountability and Community Care

Robert Carroll,

Communication Studies

Empowering queer and under-represented faculty and grad students to share their stories

Ann Thijs, 

BIO Instructional Office

Early Exposure to Data Skills in Introductory Biology Sequence
If you're interested in learning more about the PTF program or any of these Fellows' initiatives, you can find information on their website.