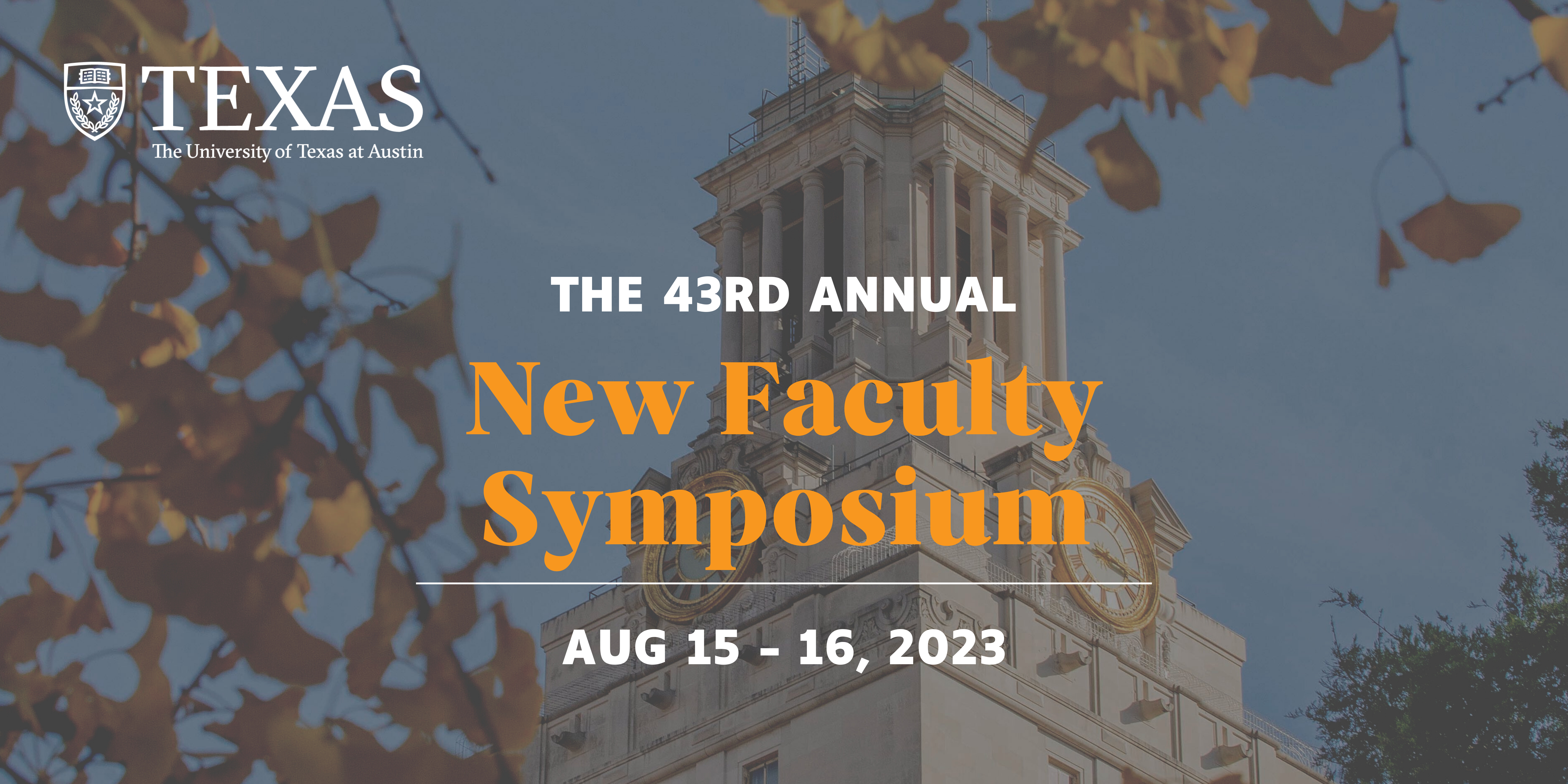 ---
The UT Austin Administration, Provost's Teaching Fellows, and Center for Teaching and Learning are proud to present the 43rd annual New Faculty Symposium, taking place August 15-16, 2023. The purpose of the Symposium is to share the university's integrated approach to research, teaching, and service shaped by our culture of innovation and excellence. We cannot wait to welcome all new faculty into our community of teacher-scholars and the greater Longhorn family!
In order to support our newest colleagues as fully as possible, we have developed a hybrid program that will include a series of self-paced and synchronous activities for new faculty throughout the month of August, and culminating in the Symposium proper on August 15-16. We will share further details of the live event throughout the summer. Some of the planned activities include:
An interactive, self-paced Canvas course, available before the Symposium, full of information, activities, and opportunities for interaction with fellow new faculty--all while familiarizing yourself with UT's most common virtual platforms for teaching and learning.
A live, in-person New Faculty Symposium on August 15-16 will give you the opportunity to meet some of our campus leaders and administrators, and learn more about life at UT Austin.
A President's Reception on August 15 in the Tower, as well as other opportunities for social engagement with your new colleagues.
A Closing Networking Reception on August 16 at the UT Club with new, current, and retired faculty from across campus.
Please note that this Symposium does not cover any of the topics discussed in the HR New Employee Orientation, to which attendance is required by the university. The Symposium will also not cover College, School, or Department-specific topics and resources, which are addressed by the College, School, or Department itself. New faculty are advised to reach out to a Departmental contact for more information about their specific orientation options.
Registration for the 2023 New Faculty Symposium is now open! If you would like access to some or all of these resources and events, or for more information or questions about the Symposium, contact Sarah Schoonhoven.
---
For Campus Collaborators
If you are a center, department, or other UT entity who is looking for ways to get involved in the New Faculty Symposium, please contact us for more information about engagement opportunities.
If you are organizing a College-wide, School-wide, or Departmental Orientation for new faculty this Fall, please complete this quick questionnaire so that we can best communicate and cross-promote about various faculty orientation opportunities. We would love to hear from you!