people was talking to each other
Driving campus-wide teaching and learning initiatives
people discussed in the zoom
Collaboration and community from all corners of campus
A teacher was talking to students
Empowering faculty to advance education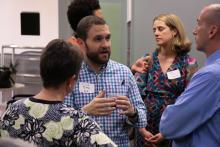 Are you interested in applying to the PTF program? Get started here! 
The Provost's Teaching Fellows program accepts applications from interested instructors during the Fall semester. Before beginning the application process we highly recommend potential applicants review the program's most recent Impact Report and check out the Initiative Directory for more information on who the PTFs are and some of the initiatives fellows have enacted. You can also learn more about the Provost's Teaching Fellows or check out the PTF Calendar for upcoming events.
The application process for the 2024 Provost's Teaching Fellows cohort us underway. Here's what you can expect over the coming months as a potential applicant:
The Program Promotion Committee and Recruitment & Application Committee hosted an Information Session on Friday, October 27 from 12-1pm on Zoom.

Interested potential applicants should complete the

Intent Form in order to begin the application process. This form is due November 6.
Once the intent form is received, potential applicants will be matched with an Intent Partner who is a current or Alumni PTF. The Intent Partner can answer questions about the program, review applications before submission, and generally support the potential applicant in their decision to apply for the PTF program.
By mid-November applicants will receive the PTF Application (and evaluation rubric), which must be submitted by the December deadline in order to be considered. This application includes a portion for the Intent Partner to complete, which should take place before the December 11th deadline.
The Application Committee will evaluate applications in December, and will meet in January to review the applications and make final selection decisions. Applicants will be notified of their selection or rejection in late January or early February.
The 2024 Cohort will be inducted into the PTF Program at the annual PTF Showcase, which takes place this year on April 12th.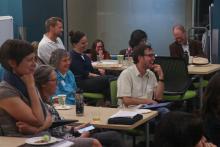 Are you a current Fellow looking for program information and updates? Find what you need!
Current and Alumni fellows can view the PTF Calendar to see upcoming meetings or contact the Program Coordinator. You can also view and share the 2021-2022 PTF Annual Report.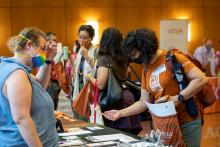 Do you want more information about the Fellows and how you can collaborate with them? Let's connect!
There are lots of ways to connect with PTFs for ideas and collaborations: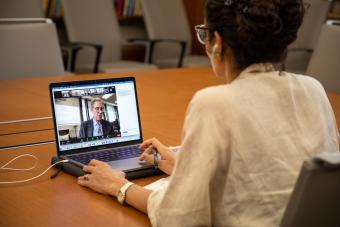 This August the Provost's Teaching Fellows and the Center for Teaching and Learning host the 43rd annual New Faculty Symposium, UT's campus-wide orientation for incoming faculty. The Symposium takes place every year on the Tuesday and Wednesday before classes start, typically the third week of August. Registration for the 2023 Symposium is closed, but all new instructors are invited to register for the New Faculty Symposium Canvas Course.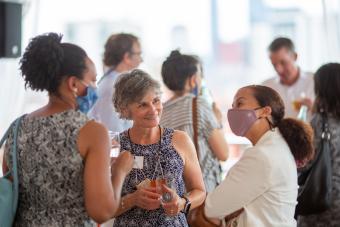 You can view this report to learn more about who the PTFs are, what kinds of initiatives they've created, and a few of the lasting impacts fellows' work has had on the UT teaching and learning community.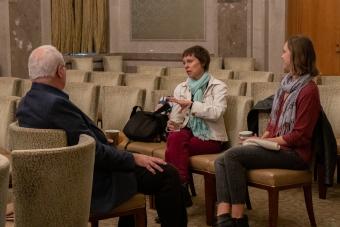 Our campus-wide celebration of teaching is now Texas Teach-Up! Formerly known as Eyes on Teaching and Online Teaching Days, Texas Teach-Up has a new name to mark a new chapter as we continue to cultivate a community around teaching among instructors of all levels. This year's Texas Teach-Up takes place on February 28th-29th, 2024.
Upcoming Events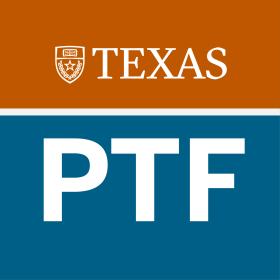 Thursday January 25, 2024, 2:00 pm - 4:00 pm
Think Tanks, facilitated by the Provost's Teaching Fellows, invite instructors to discuss problems and tackle tough topics in a safe environment among a diverse group of fellow instructors.
Wednesday February 28, 2024 - Thursday February 29, 2024, All day
Visit peers' classrooms to learn about a variety of teaching styles and learning environments.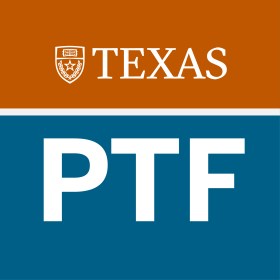 Friday April 12, 2024, 3:00 pm - 5:00 pm
The PTF Annual Showcase hosts PechaKucha-style presentations of third year fellows' Initiatives, welcomes in the newest cohort of fellows, and celebrates another successful year of the PTF Program. This event takes place annually on the first Friday in April. The PTF Annual Showcase is open only to Provost's Teaching Fellows and invited guests. Please reach out to Sarah Schoonhoven with questions.